Scientifique de données / Data scientist
Ajouter vos talents à une équipe dynamique, où l'esprit de collaboration, le plaisir et l'innovation sont au rendez-vous !
(An English version will follow)
A propos de nous
Notre mission première est d'améliorer la santé des gens.
BioTwin est une entreprise de Québec qui développe une solution de jumeaux numérique au profit des domaines du bien-être et de la santé personnalisée.
Nous sommes une équipe entrepreneuriale ambitieuse qui travaille sur des technologies avancées et innovantes dans le domaine de l'intelligence artificielle.
Joignez-vous à notre équipe multiculturelle, travaillant sur des projets de recherche & développement à la fine pointe de la technologie, pour développer des outils bio-informatiques de détection et prédiction personnalisés par individu.
Venez participer à créer la médecine de demain !
A propos du l'emploi
BioTwin est actuellement à la recherche d'un scientifique en bio-informatique. Relevant du Directeur informatique, cette personne jouera un rôle crucial dans la réalisation de notre mission principale, qui consiste à améliorer la qualité de vie des personnes en exploitant la science des données et les technologies d'intelligence artificielle (IA) afin de développer un jumeau numérique.
A propos de vous
Vous avez un bon jugement ainsi qu'une capacité à trouver des solutions technologiques innovantes facilitant l'intégration des différentes demandes de manière cohérente.
Vous êtes à l'aise avec des priorités changeantes dans un environnement dynamique aillant des échéances.
Vous avez une bonne connaissance des méthodologies Agile, de la collecte des exigences logicielles, du développement et de la livraison.
Vous avez le désir d'améliorer la santé des gens !
Voici plus de détails sur ses rôles et responsabilités :
Scientifique de données (80%)
Analyser de grands ensembles de données moléculaires, comme les données métabolomiques et protéomiques, à des fins de recherche.
Créer de nouvelles approches informatiques et de nouveaux outils analytiques en fonction des objectifs de la recherche.
Concevoir et appliquer des algorithmes bio-informatiques, y compris l'apprentissage automatique supervisé et non supervisé, la programmation dynamique et/ou les algorithmes graphiques.
Consulter nos chercheurs dans les contextes d'analyse les problèmes, de recommandation de solutions technologiques ou/et afin de déterminer les stratégies informatiques.
Contribuer à la feuille de route recherche et développement
Développer des preuves de concept de logiciels ou d'applications à des fins d'utilisation scientifique ou technique.
Communiquer les résultats de la recherche par le biais de présentations lors de conférences, de publications scientifiques ou de rapports de projet.
Préparer des rapports ou des présentations scientifiques ou techniques.
Faire des revues de littérature afin de maintenir ses connaissances professionnelles.
Suggérer le travail des techniciens et du personnel des technologies de l'information qui appliquent des outils ou des applications bio-informatiques dans des domaines tels que la protéomique, la transcriptomique, la métabolomique et la bio-informatique clinique.
Consulter les différents département interne; tels que le marketing, le développement commercial et les opérations pour coordonner le développement ou l'amélioration des produits.
Collaborer avec des développeurs pour le développement et la modification de logiciels commerciaux de bio-informatique.
Chef d'équipe (20%)
Conseiller l'équipe sur le développement ou l'utilisation de nouvelles technologies.
Superviser le personnel scientifique ou technique.
Collaborer avec des spécialistes techniques pour résoudre des problèmes de conception ou de développement.
Recommander de nouveaux systèmes et processus afin d'améliorer les opérations.
Former le personnel aux procédures techniques ou scientifiques.
Fournir un soutien aux différents intervenants qui le demandent, analyser les situations problématiques et, le cas échéant, assurer la liaison avec l'équipe
Connaissance:
Jira
Git/Github
Microsoft Office 365
Windows, LINUX
Langages de script (Python, Bash).
L'opérationnalisation de l'apprentissage automatique à l'aide de conteneurs (docker) est un atout.
Compréhension approfondie de l'apprentissage automatique, notamment des modèles supervisés et non supervisés.
Solides connaissances en SQL
XML, JSON, CSV 
Requis:
Doctorat en biosciences, bio-informatique, biologie computationnelle (ou discipline connexe) et 3 à 5 ans d'expériences
Maîtrise en biotechnologie (ou dans une discipline connexe) et 10 ans d'expérience.
Une expérience de projet utilisant la méthodologie Agile, en particulier Scrum/Kanban, est un atout.
Forte expérience de Python appliquée à des projets utilisant les pratiques de version du code.
Expérience de projet dans un environnement en nuage tel que Microsoft Azure.
Excellente capacité à gérer les relations avec les clients/partenaires.
Expérience de projets utilisant des modèles symboliques d'intelligence artificielle, basés sur des données, supervisés et non supervisés.
Connaissances statistiques dans les techniques standard : Régression logistique, modèles de classification, analyse de clusters, réseaux neuronaux, forêts aléatoires, ensembles sur des sources de données hétérogènes et modélisation de variables latentes.
Expérience de projets avec des algorithmes de séries temporelles
Expérience avec les données omiques non séquentielles (par exemple, protéomique, métabolomique, lipidomique).
Capacité à synthétiser des problèmes complexes avec créativité.
Capacité à faire preuve d'esprit critique
Excellentes capacités de synthèse, de communication et de rédaction.
Compétences :
Encadrement: Capacité d'accompagner et diriger les employés afin d'assurer leur motivation au travail et l'atteinte des objectifs de l'organisation.
Prise de décision : Habileté à analyser l'information permettant de prendre une décision éclairée, puis à prendre une décision rapidement lorsque la situation l'exige.
Enseignement : Aptitude à expliquer clairement des manières de travailler et différentes notions. Habiletés à soutenir une personne afin qu'elle se développe.
Autonomie : Aptitude à penser et agir avec indépendance. Capacité de travailler un minimum de supervision et de lignes directrice.
Curiosité intellectuelle : Capacité d'apprendre de nouvelles choses avec intérêt et motivation.
Résolution de problèmes : Aptitude à proposer et à appliquer des solutions efficaces aux problèmes.
Dynamisme : Capacité d'agir avec enthousiasme, énergie et vitalité. Habileté à être actif et à faire preuve d'intensité.
Défi et Environnement:
En tant que bio-informaticien, vous combinerez la recherche en biologie, biométrie et études liées à la santé avec les technologies de l'information afin d'interpréter et de modéliser des données couvrant un éventail de domaines, tels que la métabolomique ou les phénotypes.
Travailler dans un environnement au rythme soutenu sur des problèmes complexes dans une entreprise en pleine croissance.
Travailler avec des équipements de laboratoire de pointe, mais encore expérimentaux, en collaboration avec des chimistes et des biologistes.
Avantages de votre futur environnement de travail
Être parmi les premiers à avoir son jumeau numérique !
Environnement Startup stimulant et innovateur
Le sentiment d'avoir un réel impact dans la vie des gens en contribuant à l'amélioration de la médecine personnalisée
Un milieu humain et flexible où la conciliation travail et vie professionnelle est priorisée
Rémunération hautement compétitive qui met en valeur l'expérience académique ainsi que l'expérience en entreprise
Participation au programme d'option d'actionnariat significatif
Couvertures d'assurances santé pour les employés et leur famille payées à 50% par l'employeur
Régime d'épargne-retraite participatif
Un minimum de 3 semaines de congés rémunérés par année
Biotwin rémunère les journées additionnelles aux jours fériés entre Noël et le jour de l'an
5 jours additionnels de congés personnels et/ou maladies rémunérées si non-utilisées
Événements sociaux réguliers pour les membres de l'équipe et leur famille
Accès direct par les transports publics, voiture et vélo (stationnement gratuit)
Formations et développement des compétences en continue
Program Optimal de support psychologique des employés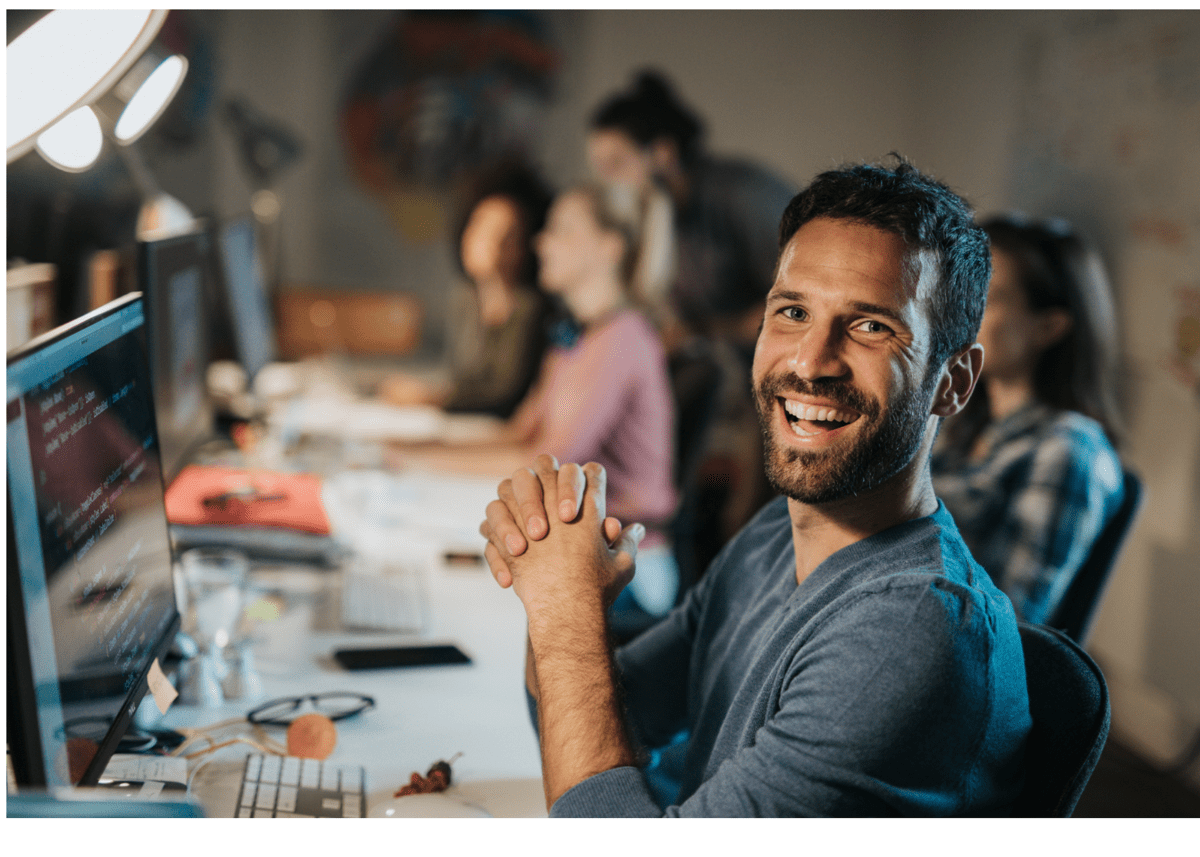 ___________________________________________________________________________
About us
Our primary mission is to improve people's health.

BioTwin is a Quebec-based company that develops a digital twin solution for the benefit of the wellness and personalized health fields.

We are an ambitious entrepreneurial team working on advanced and innovative technologies in the field of artificial intelligence.

Join our multicultural team, working on cutting-edge research & development projects, to develop personalized bioinformatics detection and prediction tools for individuals.

Come and participate in creating the medicine of tomorrow!


About the job
BioTwin is currently seeking a Bioinformatics scientist. Reporting to the Software Director, this person will have a crucial role in achieving our primary mission of improving the quality of life of people by harnessing data science and artificial intelligence (AI) technologies to develop a digital twin.
About you
A good judgment and reasoning in finding innovative technological solutions and facilitate the integration of the various demands into a coherent whole. Comfortable with changing priorities in a dynamic environment with deadlines.
A fair knowledge of Agile methodologies, software requirements gathering, development and delivery as well as the desire to improve people's health are major assets for this position.
Here are more details of its roles and responsibilities:
Data scientist (80%)
Analyze large molecular datasets such as metabolomics data, and proteomics data for research purposes.
Create novel computational approaches and analytical tools as required by research goals.
Design and apply bioinformatics algorithms including unsupervised and supervised machine learning, dynamic programming, or graphic algorithms.
Consult with researchers to analyze problems, recommend technology-based solutions, or determine computational strategies.
Contribute to research and development roadmap
Develop software or applications proof of concept for scientific or technical use.
Communicate research results through conference presentations, scientific publications, or project reports.
Prepare scientific or technical reports or presentations.
Review professional literature to maintain professional knowledge.
Suggest the work of technicians and information technology staff applying bioinformatics tools or applications in areas such as proteomics, transcriptomics, metabolomics, and clinical bioinformatics.
Confer with departments such as marketing, business development, and operations to coordinate product development or improvement.
Collaborate with software developers in the development and modification of commercial bioinformatics software.
Team Leader (20%)
Advise others on the development or use of new technologies.
Supervise scientific or technical personnel.
Collaborate with technical specialists to resolve design or development problems.
Recommend new systems and processes to improve operations.
Coach personnel in technical or scientific procedures.
Provide support to the various stakeholders who require it, analyze problematic situations and, if applicable, liaise with team.
Knowledge:
Microsoft Office 365
Windows, LINUX
Scripting languages (Python, Bash).
Machine Learning operationalization using container (docker) is an asset
Deep understanding of machine learning including and supervised and unsupervised models
Solid background in SQL
XML, JSON, CSV   
Requirements:
PhD degree in Biosciences, Bioinformatics, Computational biology (or related discipline) and 3 to 5 years of experiences
Master's degree in Biotechnology (or related discipline) and 10 years of experiences
Project experience using Agile methodology specifically Scrum/Kanban is an asset
Strong python experience applied in projects using code versioning practices
Project experience in cloud environment such as Microsoft Azure
Excellent ability to manage customer/stakeholder relations
Project experiences using Artificial Intelligence symbolic, data-driven, supervised and unsupervised models
Statistical knowledge in standard techniques: Logistic Regression, Classification models, Cluster Analysis, Neural Networks, Random Forests, Ensembles on heterogenous data sources and latent variable modeling
Project experiences with times series algorithms
Experience with non-sequencing based omics (e.g. proteomics, metabolomics, lipidomics)
Ability to synthesize complex problem with creativity
Ability to use critical thinking
Possess excellent synthesis, communication and writing skills
Skills :
Coaching: Ability to coach and direct employees to ensure their motivation at work and the achievement of the organization's objectives.
Decision-making: Ability to analyze information in order to make an informed decision, and to make a decision quickly when the situation requires it.
Teaching: Ability to clearly explain ways of working and different concepts. Ability to support a person to develop.
Autonomy: Ability to think and act independently. Ability to work with minimal supervision and guidelines.
Intellectual curiosity: Ability to learn new things with interest and motivation.
Problem solving: Ability to propose and implement effective solutions to problems.
Dynamism: Ability to act with enthusiasm, energy and vitality. Ability to be active and intense.
Challenges and environment:
As a Bioinformatician you will combine research in biology, biometrics and health-related studies with information technology in order to interpret and model data covering a range of fields, such as metabolomics or phenotypes.
Working in a fast-paced environment on complex problems in a fast-growing company.
Working with state-of-the-art yet still experimental laboratory equipment in collaboration with chemists and biologists.
Our company offer Benefits
Be among the first to have a digital twin!
A human and flexible environment where work/life balance is a priority
The feeling of making a real impact in people's lives by contributing to the improvement of personalized medicine
A highly competitive compensation package that emphasizes academic and business experience
Participation in a significant stock option program
Health insurance package for employees and their families, paid 50% by the employer
Participatory retirement savings plan
A minimum of 3 weeks paid vacation per year
5 additional days of personal leave and/or paid sick leave if not used
Regular social events for team members and their families
Stimulating work environment
Direct access by public transportation, car and bicycle (free parking)
Ongoing training and skills development
Department

Bio-informatic

Locations

Biotwin
Related jobs
About BioTwin
BioTwin harnesses AI, biomarkers and biometrics to create a virtual human copy. These digital twins allow early detection & prediction of diseases and innumerable simulations. Through a "toolbox" ecosystem, this technology is revolutionizing the wellness & healthcare fields by making personalized & preventive medicine a reality.
Already working at BioTwin?
Let's recruit together and find your next colleague.